In-House Finance and Tailored Packages with Low APR's and 0% Deposit Available
ONLINE FINANCE APPLICATIONS
Buying a new car can be stressful. Here at Toyota Naas we aim to make the process as seamless as possible from start to finish! Why not obtain a personalised quote tailored to your needs? Book an appointment with our in house Finance Manager, Aaron, and drive away in the car of your dreams sooner than you had expected. We deal with multiple financial institutions which puts us in the position to find the best possible deal for you.
If you have any finance queries, then make sure to contact aaron.dunney@toyotanaas.ie with all your queries and get tailored, expert advice you can rely on.

0% DEPOSIT - NEW OFFER
Want a new car but worried about having to put down a big deposit? Don't worry- we have now introduced our 0% Deposit offer - Ask our friendly team about the benefits of this scheme...
No big payment out at the start of your purchase
Easy and manageable monthly repayments
The finance package will fund the entire cost of the vehicle - so you don't have to worry!
CURRENT FINANCE OFFERS- NEW AND USED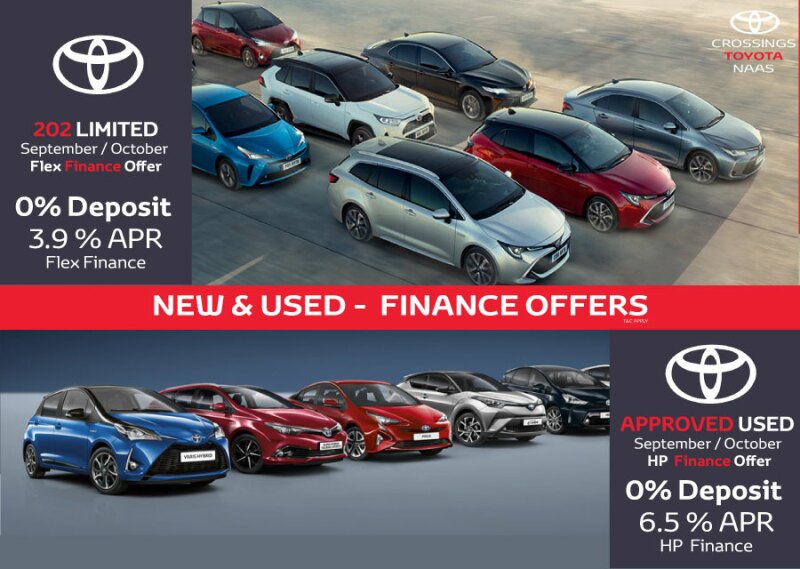 Running from September until the end of October 2020 we are running two fantastic Finance Offers - Exclusive to Crossings.
USED CAR OFFER:
0% Deposit // 6.5% APR on HP Finance.
NEW CAR OFFER:
Looking for a 202? Look no further. Make use of our 0% deposit offer and low APR from 3.9% with Toyota Flex Finance.
Want to know more about our offers? Email our in-house Finance Manager Aaron.Dunney@toyotanaas.ie to find out more. All we need to tailor a personal quote for you is the model that you are interested in, and your preferred monthly repayments.
TOYOTA FLEX FINANCE
How does it work?
Firstly, you choose the Toyota you want. Then you choose the deposit that best fits your current needs and select the estimated kilometres you'll expect to travel during the term. Then we set a Guaranteed Minimum Future Value (GMFV††) of your new Toyota. Your monthly repayments are then calculated on the difference plus interest.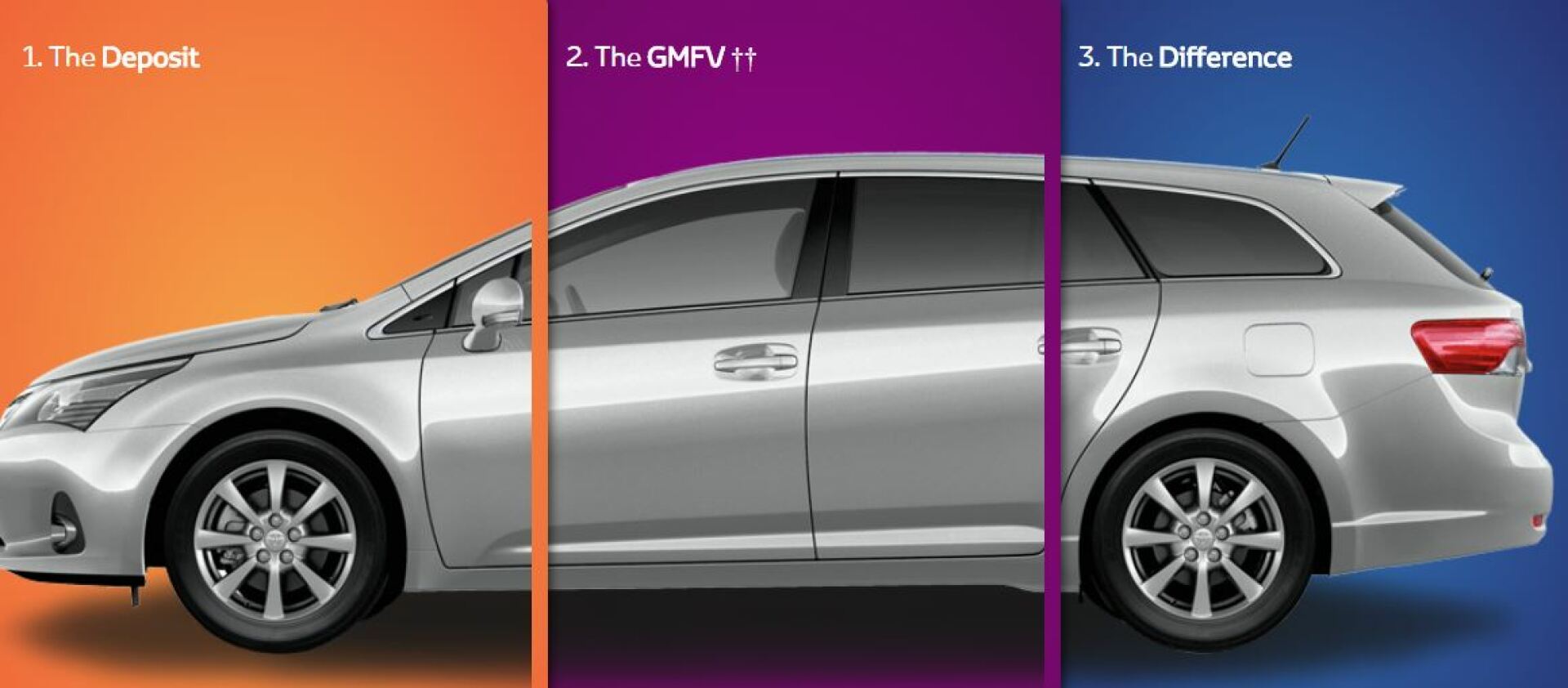 How to drive a brand new Toyota every 3 years.
Firstly, you choose the Toyota you want. Then you choose the deposit that best fits your current needs and work out the finance amount. Then we agree on the estimated kilometres you'll expect to travel during that term and, using this information, we calculate the Guaranteed Minimum Future Value (GMFV††) of your car. The GMFV†† is designed to give you the reassurance of knowing the minimum that your car will be worth, subject to an excess kilometre charge and excess wear and tear policy, at the end of your agreed term. Once we have agreed upon the GMFV†† we will work out your monthly repayments, with an optional final payment equal to your GMFV††. With Toyota Flex you'll also benefit from the peace of mind of the low running costs, as well as Toyota's renowned Quality, Durability and Reliability. And at the end of your contract, you'll have the choice of keeping, returning or upgrading your Toyota. With Toyota Flex, you can change your Toyota to fit perfectly into your changing lifestyle.
How does it work?
Enjoy the certainty of fixed monthly repayments, Toyota's low running costs, and knowing that at the end of your finance contract, your car will have a Guaranteed Minimum Future Value††. At the time of purchase
1. Select your new Toyota.
2. Nominate the deposit you'd like to pay. You agree on a deposit that suits your needs. It can be as low as 7% of the On the Road Price of your new Toyota.
3. Choose the number of kilometres you expect to travel over the term.
4. We define a Guaranteed Minimum Future Value††- this is a guarantee of how much your vehicle will be worth at the end of your finance agreement. Along with the deposit, this sum is subtracted from the vehicle price.
5. Our monthly instalments are calculated according to the remaining balance between the Deposit and Guaranteed Minimum Future Value†† , plus interest, which ensures that the Toyota Flex ownership package will be more affordable.
If you would like to know more then you can download this brochure: https://finance.toyota.ie/files/Toyota-Flex-Brochure.pdf or give us a call on 045 897589.
HP FINANCE
Buying a car on HP is ideal for those looking for a straight-forward loan agreement! The loan is quick and easy to arrange in-house. There is no set deposit amount at the start of the agreement and there are a choice of payment terms available, normally between 12 and 72 months (1-6 years). Repayments are fixed at the same amount throughout the agreement which can help with budgeting.
For more information email aaron.dunney@toyotanaas.ie
SMART PROTECT INSURANCE
As the name suggests, SMART Protect is a policy designed to help keep your car in perfect condition, without compromising your no claims bonus. What if the bodywork on your shiny new car gets chipped, dented, scratched or scuffed? Let's face it, every-day wear and tear like this is hard to avoid, no matter how careful you are. Whenever you need to, you can validate your claim through the SMART app and arrange for an expert repair technician to come to you at home or work at a time that suits. Smart repair is a state-of-the-art repair technology, so any chips, dents, light scratches or scuffs to bodywork will be erased on the spot. All work is guaranteed for the lifetime of vehicle ownership, and the streamlined claims handling procedure is the best in the business.
For more information email aaron.dunney@toyotanaas.ie
GAP INSURANCE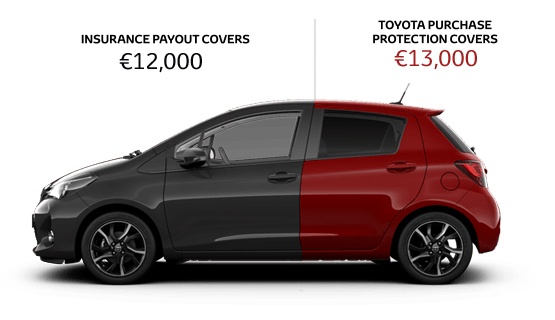 If your car is declared a write off by your insurance company as a result of an accident, fire or flood damage or stolen and unrecovered, Toyota GAP Insurance could provide valuable financial assistance to help you buy a new vehicle. Toyota GAP Insurance is tailored to cover the difference between the Market Value† your insurer pays out and the original Net Invoice Price* of your car.
What's included?
Up to 3 years cover (36 months)
Up to €80,000 Net Invoice Price covered*
No maximum claim limit up to the Net Invoice Price of your vehicle
*Net Invoice Price - the amount that you have paid for the vehicle itself, excluding non-dealer fitted options and extras such as negative equity.
†Market Value is the value of the Insured Vehicle (excluding contents) at the Date of Loss as assessed by the issuers of the Motor Insurance.
Example
Net Invoice Price - €25,000
Market Value at the time of write off - €12,000
Insurer pays - €12,000
Toyota GAP Insurance Pays - €13,000
What's more, if your insurer charges you an excess, Toyota GAP Insurance could contribute up to €500 towards this.
The insurer for this policy is Aioi Nissay Dowa Insurance Company of Europe SE Registered in Luxembourg (Company Number: B232302) at 4, rue Lou Hemmer, L-1748 Senningerberg, Luxembourg and is authorised by the Commissariat aux Assurances in Luxembourg and is regulated by the Central Bank of Ireland for conduct of business rules.
This policy is administered by MAPFRE ASISTENCIA Compania Internacional De Seguros Y Reaseguros, S.A., trading as MAPFRE ASSISTANCE Agency Ireland is authorised by Direccion General de Seguros y Fondos de Pensiones del Ministerio de Economia y Hacienda in Spain and is regulated by the Central Bank of Ireland for conduct of business rules.
CREDIT AND FINANCE MADE EASY
Bad Credit, No Credit History... No Problem
We will work with you to source the best finance options so you get the best vehicle to suit your needs, and budget.
If you have been refused credit or have a 'bad credit history' our finance specialist can help. We recognise that due to external factors many customers at some point may have been unable to make a repayment which may have negatively affected their credit, and in-turn affected their ability to get credit.
We work with lenders who take a more personal approach by analysing your current situation and repayment ability rather than what a computer tells them. This ensures we understand what a customer can realistically afford before we lend to them, be that commercial or consumer finance.
At Crossings Toyota we also offer 'Flex PCP Finance.' This allows you to enjoy the security of real guarantees and say goodbye to the uncertainties you've come to expect from traditional methods of car ownership. With Toyota Flex from Crossings Toyota we can tailor a repayment package for you, starting with a deposit as low as 7% of the On the Road price.
Once you pick the vehicle of your choice, we will be happy to assist you in choosing the best finance package, just call us on (045) 897 589 or click here to email us
SALES WITH PEACE OF MIND
At Crossings Toyota Naas we have a selection of used vehicles from the city runabout to the large family car, and a variety of commercial vehicles.
Preperation is the key to our unrivalled quality. Each and every used car is prepared to the highest of standards. The pre-sales stage incorporates full servicing of each used vehicle, and full valeting in order to present the new owner with the best quality used car available.
For extra peace of mind, all of our used vehicles are supplied with a full 12 month used vehicle Toyota cover warranty * This used vehicle warranty is for unlimited mileage and also provides 24 hour roadside assistance.
Our aim is to supply the best used vehicles and an aftercare service which is second to none, so our customers can enjoy absolute peace of mind.
TERMS AND CONDITIONS
The information provided is general in nature. You should seek your own independent financial advice to determine whether Toyota Flex is appropriate for your individual circumstances. Lending criteria and terms and conditions apply. Finance is provided by way of a hire purchase agreement at participating Toyota Dealers only. ††The Guaranteed Minimum Future Value (GMFV) is payable if you renew or retain the vehicle at the end of the agreement. Further charges may be applied by your Toyota Dealer subject to kilometre limits/condition of the vehicle. The credit provider is Toyota Financial Services Ireland.
Our Sales Team
Our Sales Team is here to help you with all your car purchase queries.