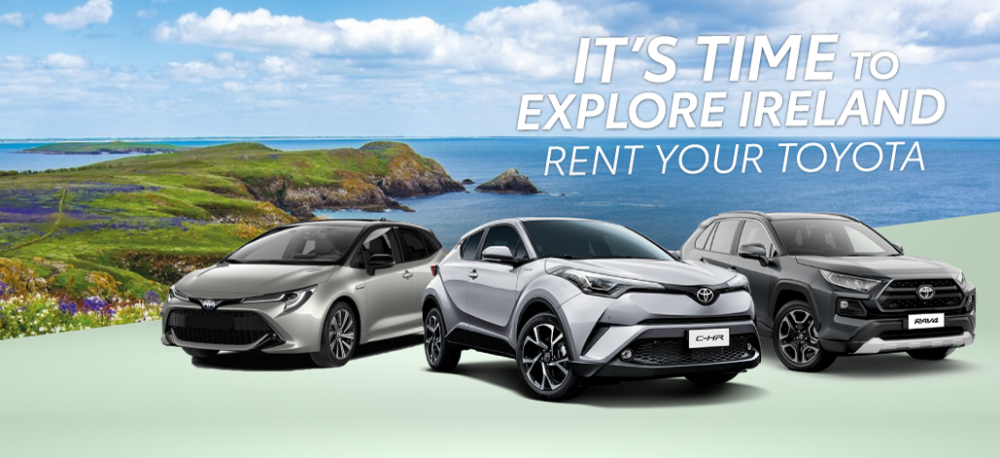 Need low-cost van and car hire in Ireland? Toyota Naas can provide convenient van and car rental at the best price.
Hiring a van or a car with Toyota Naas is about more than getting you from one place to another: it's a travel experience. Choose the car that matches your needs, whether it's a day trip, a weekend away, or a road trip during your summer holiday. Toyota Naas makes it easier than ever to hire the right vehicle for you. We offer flexible options that can enhance your car rental experience and help you get the best out of your holidays or business trip. Toyota Naas offers a variety of short-term car rentals, including daily and weekly, and long-term rentals to suit your needs. We also offer a drop-off and a collection service as you need it.
Toyota Naas puts the customer first, and to give you peace of mind, the insurance is included in the rental price when you hire a car. All rentals are covered by a fully comprehensive peer-to-peer policy provided by AXA. The premium for this is automatically added to each rental.
Book now for great value car and van hire with Toyota Naas
Start planning your trip now. Simply fill out our form below or call our rental department on 045- 897 589 for a quote.
Once your booking is confirmed, all you have to do is choose the date and time you want to pick up and drop off the car, and you are ready to roll.
We give great attention to our customer service, with contact centres in Naas and Monasterevin Motors handling our reservation and budget rental inquiries. We are located near Dublin, in Naas, Co. Kildare, with close access to the N7 to provide quick, convenient van and car hire.
Booking a hire car couldn't be easier!
FAQs
What are the opening hours?
Office Hours
Monday to Friday: 8:30am – 6pm Saturday: 9am - 5pm
Sundays and Bank Holiday Mondays – Closed
How do I rent the car?
Getting Started
Sign up directly on our website or by downloading the app (iOS or Android).
Search for cars by location or find one using the map
Choose user recommended "Top rated" vehicles, sort by price or distance, or use the filter to find specific types of cars
Making a booking
Toyota Naas offers delivery or flexible collection for an additional fee. If available, click "On Demand Collection" and choose your preferred pick-up and drop-off.
Check that you meet our insurance criteria.
Before confirming a request, you can view the full price breakdown (including insurance and processing fees).
If you like, add a message to ask questions about the car or about pick-up arrangements or simply give us a call at +353 45 897 589.
Once Toyota Naas confirms your request, any other pending requests for the same dates will auto-cancel, and your card will then be charged.
The handover
Use the messaging feature to keep in touch and confirm pick-up details.
Bring your driving license for inspection.
When you meet, conduct a "walk around", make note of the general condition of the car and - using the app - navigate to your booking and use the vehicle survey to log any existing damage.
Make note of the fuel provided and agree with the owner on conditions of use.
When both parties are happy:
On the owner's phone: Open Fleet > Owner section >Bookings > Check In
Once each party signs off, the rental and insurance policy begins.
All documents of the rental agreement will be emailed directly to both you and Toyota Naas upon check-in. It is vital that the email address you use during sign-up is one that you have access to at all times.
Return
Ensure you return with the same level of fuel or as agreed with Toyota Naas.
Pay any outstanding toll fees.
As the rental completes, check the car over and ensure it is in the same condition as when it was collected. When both parties are happy, complete check out on the owner's phone.

How can I pay for my rental?
When you create your profile on Toyota dealer rental app, you will be asked to input a credit card against your account. This will mean that when you make a booking, you can quickly and simply use that card without hassle.
Your payment will be processed when Toyota Naas confirms the rental. This card will also be used to cover any excess claims, fines, tolls or tickets incurred during your rental and left outstanding. Toyota Naas accepts
MasterCard, Visa Card and American Express Cards. All rentals must be paid for in advance through the online payments system in the app. Rentals cannot be paid for with pre-paid cards, cash or any other type of payment at this time.
Is insurance included when I rent a car?
You'll get covered by a fully comprehensive peer-to-peer policy provided by AXA included in the rental price when you hire a car. If the car is damaged or stolen during your rental, you won't have to pay the full cost of repairing or replacing it. Find out what cover is included in the rental price and how it works.
Excess €1,500 Accidental Damage & Fire.
20% of the value of the claim in respect of Theft.
Liability Limits Third Party bodily injury including passengers – Unlimited.
Third-Party Property Damage - €30,000,000.
Vehicle Use Social Domestic & Pleasure & Business of the 'customer' (excluding use for Hire & Reward.
What do I need to rent a Toyota vehicle?
To book your car, all you need is a credit or debit card.
When you pick the car up, you'll need:
Hold a valid EU or UK driver's licence and be aged 21 or over.
Many international licences are also accepted: check with Toyota Support for more details.
How do I get approved to drive?
Before you can book the vehicle, you must add a current profile picture, submit your licence for review*, add payment details, and confirm your contact information.
You can do this one of three ways:
Opening a car listing and clicking "Verify Now"
Using the app, tap: Account > View and edit profile > Verifications Completing all relevant fields on the Profile page
We aim to approve all licence submissions within 12 hours. If there is a delay, please contact support using chat and we'll endeavour to review your licence as quickly as possible.
In order to verify your licence, we require the following information:

The licence numbers. For most European licenses, this is found in section 5.
The original issue date. This is normally in section 11 on the rear of the licence.
The licence type. I.e., Full Irish, Full UK, or Full EU. You will be asked to specify which EU country your license was issued from. We do not accept provisional licences.

You will be asked during bookings how many penalty points you currently have, and if you have any claims or convictions. It is important that you provide correct information here as a failure to disclose any material fact may result in your rental being cancelled or our insurance not covering you.
I only have a provisional license, is this sufficient?
No. We do not accept provisional licenses or any license with endorsements.
Can I drive a van with my class (B) license?
Yes, you can. A full UK driving licence (category B) entitles you to drive conventional, rigid-axle vans or pick-ups that weigh up to 3.5 tonnes and have up to eight passenger seats. In short, that means you can drive most normal, light vans with a car licence.
What models are available for rent?
Toyota Yaris Hybrid Luna 2022
Toyota Yaris Hybrid Luna 2021
Toyota Yaris 1.0 Luna 2018
Toyota Corolla Hybrid Lsport Hb 2022 Toyota
Corolla Sport Hybrid Luna 2022 Toyota Corolla
Sport Hybrid Luna 2020 Toyota Toyota Proace
GX 2.0 LWB 120 BHP 2022 Toyota C-HR Sport 1.8 Hybrid
What if I have penalty points on my driving license?
We accept drivers with up to a maximum of 4 penalty points. If you have more than this, then unfortunately you cannot use the Toyota Dealer Rentals service.
All driving licences are verified through an independent third party.
Who can drive the rented vehicle?
Only the person named on the booking may drive the vehicle. Toyota Naas does not provide insurance cover for other drivers during a given rental.
What to do during a breakdown?
If the vehicle you have rented breaks down or fails to start, you can get in touch with our Breakdown Assistance service provided by AXA Insurance.
Simply call AXA Ireland's car rescue number 1890 24 7 365 (if calling from Northern Ireland, dial 03458 282 823) and quote Fleet App's peer-to-peer policy number: 223204097.
If you are unfortunate enough to break down, please contact both the vehicle owner and Fleet to report the incident.
How do I pay for fines, tolls and tickets?
The driver is responsible and must pay for any and all toll charges, parking tickets or motoring fines incurred during the rental period.
M50 toll fees can be paid directly before 8 PM the following day by using the eFlow website and entering the car's registration.
In the event Toyota Naas receives a fine after the rental period, which was not declared by the driver, please contact the Toyota immediately to arrange payment over the app's messaging service.
For more information, please check the Fleet Support webpage.
For how long can I rent a vehicle?
The rental duration for Toyota vehicles can be daily, weekly or monthly.
PRIVACY POLICY